5th Lao She Theater Festival Opens in Xicheng District, Beijing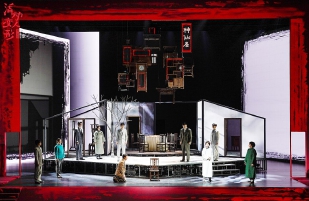 The 5th Lao She Theater Festival 2021 kicked off with an opening performance at Beijing Tianqiao Performing Arts Center recently. This year's festival will present 23 outstanding productions from home and abroad, including some works from Xicheng District of Beijing, till the end of October. Nearly 50 performances, themed forums and cultural activities offer opportunities for people in Beijing to savor the charm of theatrical arts.
The performances are divided into six parts: works based on Chinese literary classics, well-known stage dramas, theatrical dramas except stage plays, foreign productions played on the HD screen instead of being presented on the stage due to the Covid-19 pandemic, an immersive drama, and productions presented by universities. In addition, 9 themed forums and cultural activities will also be held, allowing the audience to experience the theatrical culture in different ways.
It's also worth mentioning that this year's festival sets up a sub-venue in Tianjin for the first time. Many high quality works will be staged there, including the immersive drama.