Xicheng District Red Cross Society Creates 15 Special Volunteer Service Teams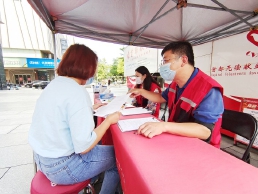 Every day before 10 pm, three or four volunteers from Xicheng District Red Cross Society go to the blood donation cabin in Xidan to offer voluntary services. They set up blood donation-themed display boards and promote knowledge about the donation of hematopoietic stem cells, provide counseling service, and guide blood donors to fill out the registration form. In addition to the volunteer service team named "Join Hands with Hope" that has been serving in the Xidan blood donation cabin all the year round, Xicheng District Red Cross Society have also established other 14 special volunteer service teams as well as 15 sub-district level emergency volunteer teams.
According to the person in charge of Xicheng District Red Cross Society, they have established 8 volunteer service bases including the one in Xidan. The bases cooperate with communities, senior care centers, reading spaces, etc. to provide voluntary services. This year, Xicheng District Red Cross Society has also cooperated with some authority organs and institutions to set up 5 special volunteer service teams.
In the future, it will build a volunteer service platform to carry out volunteer service projects, hold various volunteer service activities, and continuously improve volunteer service teams' capabilities.