More Stringent COVID-19 Preventive Measures Taken in Xicheng District's Commercial Areas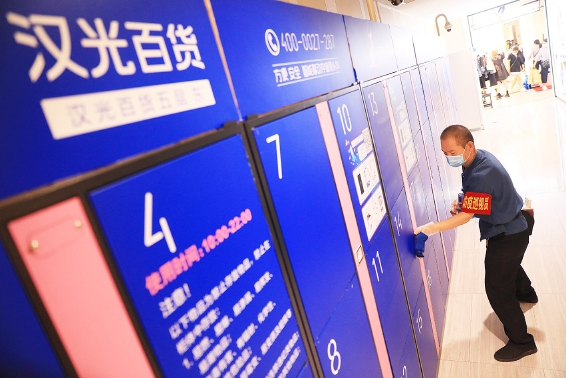 To fight against the COVID-19 Delta variant, preventive measures are put in place in shops in the Xidan commercial area, including temperature checks, health-code checks, air ventilation, thorough disinfection, one-meter social distancing, and so on.
For example, the fresh air system in a shopping mall located in Xidan opens one hour before it opens, and closes one hour after it closes. The shopping mall arranges staff members to disinfect public areas every 2 hours, and sets one-meter markers for the queuing areas to ensure social distancing. Lifts, escalators, restrooms, doors and other frequently-used facilities are often cleaned and disinfected. To avoid contact between people, the shop places cotton swabs in lifts for pressing the button. Moreover, it asks stores in the shopping mall to conduct sterilization three times a day, and have a disinfection record. Shopping guides and catering staff must take their body temperature every day. And masks are required in the shop.
In the past few days, Xicheng District Commerce Bureau has taken multiple measures to prevent the COVID-19 epidemic, ass well as made a concerted effort to ensure the sufficient supplies of daily necessities and anti-epidemic materials and stabilize their prices. It has organized people working in the commercial sector to receive nucleic acid tests for COVID-19, and carried out a risk inspection of cold chain products. Staff members of the bureau have also checked more than 100 major shops, supermarkets and residents life service centers in Xicheng District on the epidemic prevention and control.