Xicheng District's Shops and Supermarkets Provide Goods in Sufficient Supply with Stable Price and Improve Epidemic Preventive Measures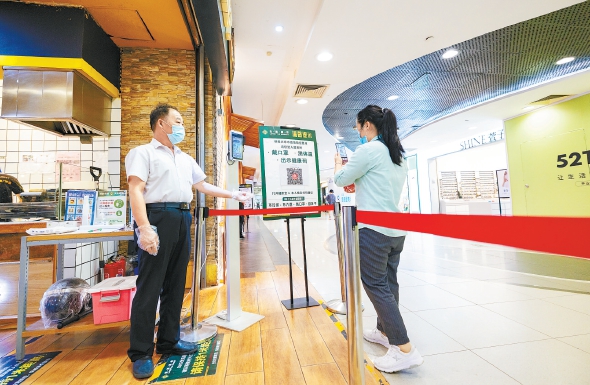 At a large supermarket in Xizhimen, Xicheng District, a customer scan the QR code of "Beijing Health Kit" before she enters.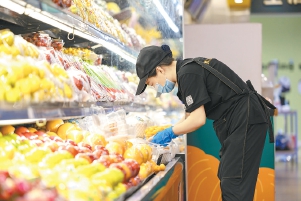 A shop assistant is placing the fruits in an orderly way.
To contain the Delta variant of the Covid-19 virus, Beijing tightens preventive measures. The reporter visited some shops and supermarkets in Xicheng District recently and saw that daily necessities such as fruits, vegetables, meat and eggs were in sufficient supply and the price maintained stable. The shops and supermarkets took various preventive measures, and customers were willing to scan the QR code of "Beijing Health Kit" and take the body temperature.
For example, a large supermarket in Xizhimen changes its suppliers in time. Cold chain products are provided by domestic suppliers now instead of foreign ones. A daily account is established to record in detail the products' places of origins, transport routes, transportation duration, shelf life, and responsible persons. For goods that are in high demand by citizens, such as fruits, vegetables and other fresh products, the supermarket sends more shop assistants to keep them sufficient in supply and fresh.
When a customer enters the supermarket, the supermarket staff will remind the customer to wear a mask, scan the "health code", take the temperature, and keep a distance of more than one meter from other customers.
In addition, the supermarket checks its employees' health condition every day, and organizes all of them to receive the Covid-19 vaccines and nucleic acid tests. Shopping carts and checkout counters are disinfected once per customer or once every two hours. Anti-epidemic items such as hand sanitizer, disposable masks and disinfection tissues are offered to customers. Disposable gloves, hand sanitizer, and disinfectant are placed in the fresh goods area. And epidemic prevention tips are broadcast in the store all day.