Convenience Store Newly Opens at Caishikou Subway Station on Line 7, Offering 9 Services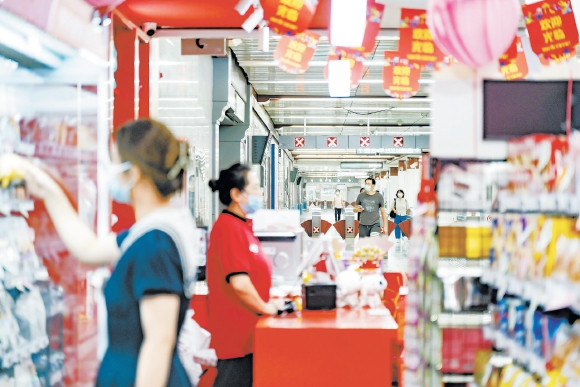 At the convenience store at Caishikou Subway Station, goods on four rows of shelves are available for passengers.
Three subway stations in Beijing have recently introduced convenience stores, which are currently in soft opening. The convenience store at Caishikou Subway Station on Line 7 attracts many passengers due to its unique design and convenience services.
The convenience store is located at the southeast exit of the subway station, side by side with the automatic ticket vending machine and opposite to the exit gate. It has an area of 50 square meters. On four rows of shelves, the goods are arranged in a neat and orderly manner. There are a snack area, a daily necessities area, a fast food area, and a fresh food area. In the fresh food area, drinks and yogurts are placed on one side, and sandwiches, boxed fried noodles, rice balls, and pastries are placed on the other side. Near the checkout counter, there are traditional Beijing-style pastries.
In addition to retail services, the store also provides 9 convenience services, including community group purchase, express service, medical kit, free hot water, free charging, free baggage storage, ticket sales, document printing, and mobile phone repair.
A checkout counter and a self-service cash register are seen in the store, and customers can pay by cash, or with WeChat and other digital payments.