Gongmenkou Dongcha Hutong and Gongmenkou Xicha Hutong Appear with a New Look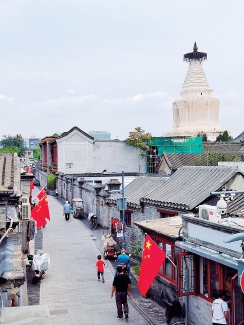 Gongmenkou Dongcha Hutong and Gongmenkou Xicha Hutong in the White Pagoda Temple historical and cultural area appear with a new look. This hutong area not only becomes a residential area where local residents lead a happy life, but also an internet-famous site where visitors enjoy Beijing's cultural heritage.
The protection and renewal project of Gongmenkou Dongcha Hutong and Gongmenkou Xicha Hutong was launched on June 4, 2020. 143 facades of buildings, 1443-meter drainage system and road landscape of 6552 square meters have been renovated. During all phases of the project, respect for history was the most important consideration. Ancient architecture expert Ma Bingjian, oil decoration master Li Haixian and brick carving master Zhang Yan were invited as consultants to give advice on the site of the project, and opinions of local residents were also taken into consideration.
The project upgrades infrastructure on the one hand, and improves local businesses on the other hand. Old catering brands are upgraded, and cultural businesses represented by White Pagoda Reading Space as well as high-quality catering businesses are newly introduced into this hutong area.
It's also worth mentioning that a 300-square-meter open area between the two hutongs is transformed into a small square with many green plants. This public leisure space beautifies the regional environment, and becomes the best spot for viewing the White Pagoda.