Hand-Painted Wall Showing Beijing Folk Custom Unveiled in a Hutong in Qianmen, Xicheng District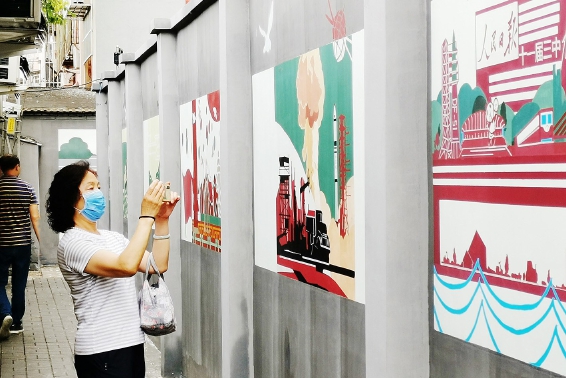 In a hutong in the Xiheyan Community, Qianmen, Xicheng District, there is a hand-painted wall showing traditional Beijing folk custom and the history of the Communist Party of China (CPC). Nearly a hundred students from Beijing Institute of Technology hand-painted the wall for a week, and the wall was unveiled with a new look recently.
The 50-meter-long gray wall includes two areas, one displaying Beijing folk custom and one showing the history of the CPC. The folk custom part covers commercial buildings that witnessed the development of Beijing, ancient landmark buildings, as well as local residents' life. The CPC's history part portrays 10 important historical events representing the struggle and glory of the CPC over the past 100 years, such as the First National Congress of the CPC, and the founding ceremony of the People's Republic of China.