Qingshui Tofu from Mentougou District on Sale in Shichahai, Xicheng District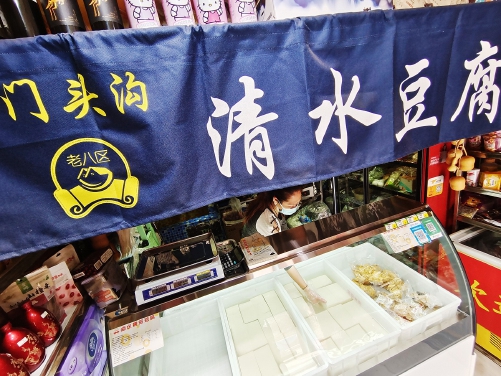 Qingshui Tofu, a well-known speciality of Qingshui Town, Mentougou District, goes on sale in No. 255 Deshengmennei Street, Shichahai Sub-district, Xicheng District. It's a win-win situation that nearby foodies have a chance to enjoy the tofu products, while the green products from Mentougou District win popularity with more citizens. And this is one of the achievements of the "Cooperation Framework Agreement to Promote the Protection and Green Development of the Ecological Conservation Areas" signed by Xicheng District and Mentougou District.
In addition to the signature product Qingshui Tofu, there are more than 10 kinds of products, such as fried black bean tofu, tofu balls, frozen tofu, and glutinous rice cake. The price list shows that 90 percent of the products cost only 8 yuan to 20 yuan.
Xicheng District and Mentougou District signed the cooperation framework agreement in 2018. Since the signing of the agreement, Xicheng District has promoted the cooperation between high-tech enterprises in Xicheng District with Mentougou's enterprises, built a government-enterprise exchange platform, and deepened the cooperation in public services. The two districts have achieved a lot in educational resource sharing, medical and health cooperation, construction of national civilized district, talent exchange and training, employment service and other fields.