Desheng Sub-District Does an Excellent Job in Waste Classification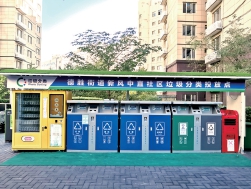 Building four municipal-level demonstration residential communities for domestic waste classification, setting up 20 waste sorting stations and one recyclable transfer station, standardizing 352 waste bin sites, upgrading three in-situ waste disposal devices, and setting up 40 points for placing bulky waste, Desheng Sub-district of Xicheng District has done an excellent job in waste classification since the implementation of the "Regulations of Beijing Municipality on the Management of Domestic Waste" a year ago.
For example, a set of smart waste-sorting bins are placed in the No. 1 Courtyard on Xinfeng Street, a residential community in Desheng Sub-district. Applying the facial recognition system, the waste bins can open their lids automatically, while residents can get points which can be exchanged for green gifts made from kitchen waste and recyclables. Moreover, a piece of in-situ kitchen waste disposal equipment works in a corner of the community. The waste put into the smart trash can be disposed by the equipment just in the community instead of being transported out of the community, and can become a liquid that meets the discharge standards and finally flows into the sewage pipeline. Currently, there are two pieces of in-situ kitchen waste disposal equipment, 29 sets of smart waste-sorting bins and one bulky garbage bin in the No. 1 Courtyard on Xinfeng Street.
In the past year, Desheng Sub-district has promoted garbage classification 320 times in communities, schools, companies, public institutions, and stores through door-to-door visit, on-site activities, and live-streaming. More than 3600 people, including staff members of the government departments, social workers, the CPC members, volunteers, etc., have participated in waste-sorting activities.
Desheng Sub-district will continue to promote waste classification, explore a new pattern of grassroots governance, and enhance residents' awareness of civilization and environmental protection.