Online and Offline New Consumption Scenarios: 2021 Xicheng District's Consumption Season Starts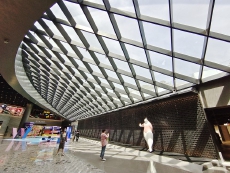 With a new look, Xidan Cultural Square is renovated into THE NEW, a new trendy landmark in Xidan, Xicheng District, Beijing.
Xicheng District's Consumption Season was launched during the Labor Day holiday. Xicheng District will create new consumption scenarios online and offline. Consumers can get coupons on the "Consumption in Xicheng" WeChat public account, and take part in promotion activities in Xicheng District's commercial areas.
According to the relevant person in charge of Xicheng District Commerce Bureau, as a branch venue of the second Beijing's Consumption Season 2021, Xicheng District's Consumption Season will run through many Chinese holidays and consumption promotion peaks. The Xicheng District government will hold large-scale activities in the whole district, and local businesses will carry out their own promotions. 13 series of promotion activities in 7 major sectors will be held.
During the consumption season, Xicheng District's businesses will offer exclusive discounts in major festivals such as the Labor Day, Dragon Boat Festival, Mid-Autumn Festival, National Day, etc., and hold a number of themed consumption activities, covering sports, culture and tourism, health, food, and traditional Chinese style products. The online platform will launch a column to offer information about brands which are popular online as well as new products throughout the year.