Xicheng District's Small-Scale Businesses Share Barrier-Free Facilities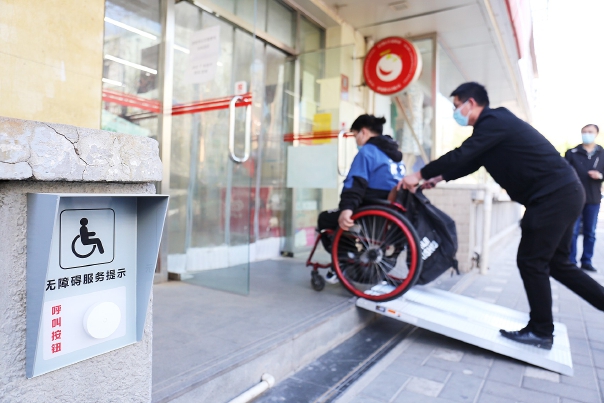 A call button is newly installed at the entrance of a pharmacy, a ring doorbell is installed outside a snack shop, and a mobile ramp is prepared in front of a supermarket for the convenience of people using wheelchairs... Barrier-free facilities and equipment are newly set up in Xizhimen Nanxiaojie, Xicheng District.
In front of a pharmacy, a disabled person pressed the call button outside the door. A salesman greeted him as soon as the bell rang. He used a mobile ramp to help the wheelchair user go into the pharmacy. Next to the pharmacy is a snack shop with five or six steps. After renovation, a ring doorbell has been installed outside the shop. The clerk served disabled customers outside the shop. A supermarket 100 meters away the snack shop shares a mobile ramp with other shops on the same street. The mobile ramp is foldable, small in size and light in weight.
Xicheng District Disabled Persons' Federation will continue to renovate small-scale businesses (such as small restaurants, small barber shops and small convenience stores), and integrate customized solutions with the district's overall planning and design. The district will support local stores to share mobile barrier-free facilities and offer reservation service and temporary call service, encourage out-of-store services and online services, as well as promote new models of convenience services in new programs and new scenarios.