Xicheng District Artists Association Opens Painting Exhibition Showing Changes in China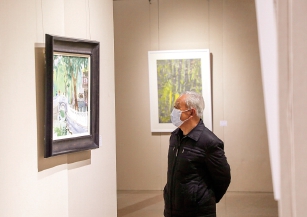 An exhibition featuring 66 paintings of Yang Jing opened at the exhibition hall of the Cultural Palace of Nationalities, Beijing recently, showing great changes in China's urban and rural areas.
The exhibits include oil paintings, watercolor paintings and paintings made from multiple materials. Some of the works portray traditional Beijing-style streets and hutongs, some depict new countryside landscapes, and some show picturesque scenery in China. The painter wants to convey a positive energy to the visitors through her paintings.
The exhibition is sponsored by Xicheng District Artists Association and undertaken by art.china.cn. In recent years, Xicheng District Artists Association has established a new display platform for young painters and other artists, and supported them to tell Chinese stories and carry forward the Chinese spirit in their own way.