120th Anniversary Exhibition of Ma Lianliang's Birth Opens at Capital Museum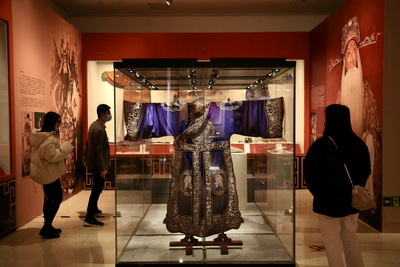 The "Dragon Horse Spirit and Sea Crane Posture" 120th anniversary exhibition of Mr. Ma Lianliang's birth opened at the M exhibition hall of the Capital Museum, Xicheng District, Beijing on December 22, and will last throughout May 23, 2021, displaying 115 pieces of precious exhibits. When talking about the history of Peking Opera, Ma Lianliang is a figure who can't get around. He is the founder of the "Ma Pai" art (the Peking Opera performance style of the Ma school) and is included in the four most famous laosheng (a dignified older male role in Peking Opera). He also left many classic repertoires and valuable cultural heritage. The exhibition is sponsored by the Capital Museum and Beijing Ma Lianliang Art Research Association, and co-organized by Jingju Theatre Company of Beijing, Mei Lanfang Memorial Hall and Shanghai Jingju Theatre Company.
2021 is the 120th anniversary of Ma Lianliang's birth. Based on his life experience and stage art, the exhibition shows his stage career and the "Ma Pai" art through 115 pieces of precious documents, Peking Opera artifacts, pictures and video materials. It is divided into three parts: the first part mainly tells the life track of Ma Lianliang in the historical background; the second part shows his pinnacle achievements in art through Ma's classic representative repertoire and exquisite opera costumes; and the third part uses Ma's communication and teaching as a clue to show his influence at home and abroad, as well as his artistic heritage. In addition to popularizing the knowledge of Peking Opera and promoting traditional Chinese culture, this exhibition also provides a way for the audience to feel the charm of Peking Opera.