Xicheng District Held Online Tea Culture Exchange Activity with 2 Districts of Tokyo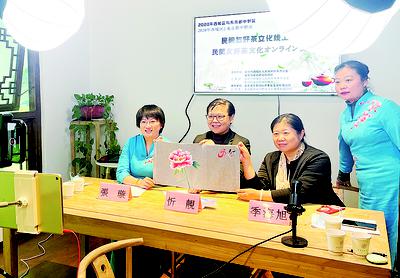 Recently, Xicheng District of Beijing and its sister cities Kita District and Nakano District of Tokyo, Japan held an online tea culture exchange activity in Beijing Maliandao Tea Street, which enjoys the reputation of "China's No.1 tea street". Due to the COVID-19 pandemic, Xicheng District actively explores new modes of international exchanges. The tea culture activity is the first online cultural exchange between Xicheng District and its sister cities.
As an indispensable traditional tool in Chinese tea culture, the teaware mat has been used for a hundred years. It not only protects and decorates the tea set, but also shows the importance of the tea ceremony and respect to the guests. During the cultural exchange activity, the teaware mat painting teacher taught the Japanese participants how to paint a teaware mat, providing a chance for them to experience the teaware mat painting skills and feel the charm of traditional Chinese tea culture. And an art teacher from Kita District demonstrated skills of Japanese origami. Sheets of paper were transformed into origami artworks of various shapes.
In recent years, Xicheng District has been promoting international exchanges in the tea culture field through the sister city platform. Delegations from Xicheng District, Kita and Nakano have participated in many tea culture-themed friendly exchange activities, such as intergovernmental visits, Chinese tea culture exhibitions and shows, and exchange activities between tea companies.
As early as 1986, Xicheng District and Nakano District became the sister cities, which is Beijing's first pair of district-level sister cities. Over the years, Xicheng District has carried out a variety of interactive activities in the fields of culture, education, and sports with Kita District and Nakano District.