Peking Opera Production "Wu Song" Staged at Beijing Tianqiao Performing Arts Center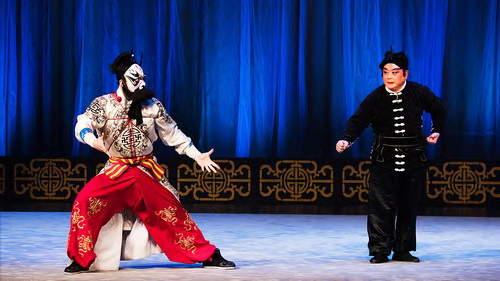 Wu Song is an important Peking Opera character, and the one performed by famous Peking Opera artist Li Wanchun has been deeply rooted in the hearts of the people. As a performance of the 2020 Xicheng District Residents' Drama Exhibition Show, a Peking Opera production Wu Song was staged at Beijing Tianqiao Performing Arts Center on December 15, showing the performance style of the Li school. Although the leading actor Xu Liren, is not a professional Peking Opera performer, he is comparable to a professional one in learning and presenting the character in this play.
The performance was hosted by Xicheng District Bureau of Culture and Tourism, and undertaken by Beijing Fenglei Peking Opera Company. It's the seventh year for Xicheng District Residents' Drama Exhibition Show, which started in 2014. The event runs throughout the year. Based on Xicheng District's stories, those shows are high-quality cultural products close to Beijing citizens' daily life. This year, 23 productions are staged, including original dramas, plays and Chinese operas from a collection event, performances of a drama experiencing camp, and performances in campus.
Xicheng District launched the annual "Origin of Peking Opera" Xicheng District Peking Opera's Birthplace Art Season in 2018. In the past three years, Xicheng District has made use of its profound Peking Opera cultural heritage and rich Peking Opera resources to give Peking Opera amateurs many opportunities to show themselves in Xicheng District's small theaters as well as cultural centers.