Dashilan Sub-District's Community Cultural Services Station Serves Over 8000 Residents for Free in 2 Years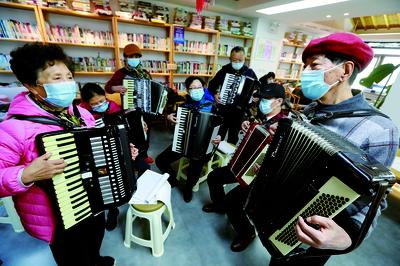 Recently, Li Wei, a retired old man, directed some elderly students to play musical instruments in the "Come Here" Community Cultural Services Station at No.158 Xiheyan, Qianmen, Dashilan Sub-district, Xicheng District. In addition to the fixed courses on the curriculum, the "Come Here" Community Cultural Services Station has organized more than 500 cultural activities since it was opened in October 2018, such as printing experience activity, century-old textbook exhibition, excellent children's books sharing activity, and law-themed reading club, which have served more than 8000 people.
"All kinds of services provided by our station are free for local residents," Wang Kai, the person in charge of the station, told the reporter. There are more than 3000 volumes covering history, literature, science, children, and life in the station, some of which are borrowed from Xicheng District Library, and most of which are social donations. All those books are provided to residents for free reading. It has become a popular place for local people to enjoy their cultural life.
According to the relevant person in charge of Dashilan Sub-district, the "Come Here" Community Cultural Services Station has long maintained cooperative relations with cultural groups such as China Printing Museum and Alpha Books Company, and holds reading activities, exchange activities and exhibitions regularly.