Guang'anmennei Sub-District Public Library Creates Enjoyable Reading Environment for Local Residents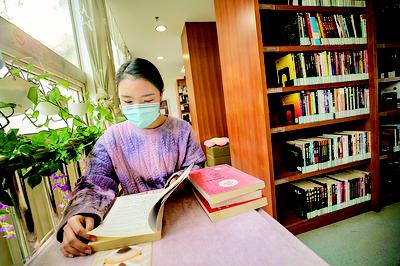 After renovation, Guang'anmennei Sub-district Public Library is reopened to readers. In cooperation with Beijing Xuehai Shuxiang Book Co., Ltd, the library makes full use of its existing resources to improve its environment and services, and take a series of measures to benefit the readers.
The library abolished its membership system, and accepts all people who hold the "city library cards" of Beijing Public Library Information Sharing Network. The library is open every day from 9 am to 9 pm, including weekends. Free tea is available for all readers. The 640-square-meters library provides not only traditional services, but also new services including book purchasing, parent-child reading, and extracurricular training. On the weekend, HD movies are played at the Dandelion Small Theater according to what the residents like. In addition, various kinds of chairs are placed beside each bookshelf. Both the comfort of the backrest and the height of the armrests of the chairs is taken into consideration, to ensure that the readers can have a good reading experience.
The library has more than 50000 books in total and more than 32000 books on the shelves now. Although the number of its books is not small, it sometimes cannot meet the needs of residents. For this reason, Beijing Xuehai Shuxiang Book Co., Ltd, as the operator of the library, has set up a book query and purchase terminal in the library. Residents can place an order through the terminal and go to the library to pick up the books after the books are sent to in the library. And the books will be cheaper compared with those on book shopping websites.