Public Green Space Opens in Maliandao, Xicheng District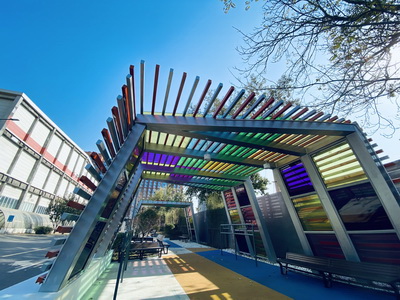 Colorful glass corridor, comfortable benches, and faint fragrances from the flower beds... a space was rebuilt from an illegally-built construction into a public green space for leisure recently and opens now. It's located on the south side of the B&T Home in Maliandao Road, Xicheng District, so it became the nearest public green space to the Maliandao Tea Street.
After careful plan and design, the construction of this green space started in late July this year. It was completed and opened to the public recently. It's also the fourth urban green space for leisure built this year in Guang'anmenwai Sub-district of Xicheng District. The newly added landscape area is 1134 square meters, with various plants and flowers. In addition, the green space has more breakthroughs in functional design than other pocket parks. Besides a number of leisure seats, there are children's entertainment area, table tennis tables and fitness equipment, which are not only for white-collar workers working in the Maliandao Tea Street to have a rest at noon, but also for residents living nearby to take exercise.