Themed Week to Mark 230th Anniversary of Peking Opera's Birth Kicked off in Dashilan Sub-District of Xicheng District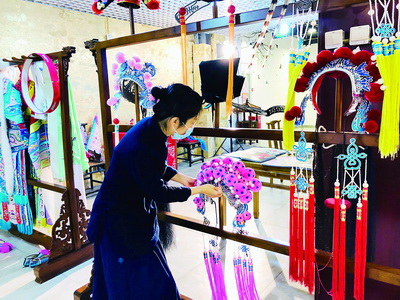 A themed week to mark the 230th anniversary of the birth of Peking Opera started in Dashilan Sub-district of Xicheng District on November 1st. The event will last one week.
A "Cradle of Peking Opera" exhibition will be held during the week. It contains an exhibition of history and culture of Sanqingyuan Theater, an exhibition of Peking Opera masks, an exhibition of Peking Opera characters, and a traditional clothes experiencing activity. Visitors can experience and understand the cultural connotation of the Peking Opera art from a close distance.
The whole event includes Peking Opera performances, Peking Opera-themed talk, Peking Opera lecture, Peking Opera exhibition, and interactive and experiencing activity, according to a relevant person in charge of the event. It is a Peking Opera feast, showing history, development and artistic charm of Peking Opera comprehensively, deeply and in details.
Throughout the 230-year history of Peking Opera, every hutong in Dashilan has witnessed the birth and prosperity of Peking Opera. Dashilan is not only where Peking Opera troupes and theaters were located, but also where famous Peking Opera masters used to live, as well as a gathering place for old-type Peking Opera schools and Peking Opera houses.