Xicheng District Holds 2020 Amateur Peking Opera Troupes Contest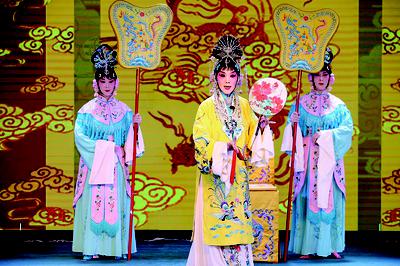 2020 Xicheng District Amateur Peking Opera Troupes Contest kicked off at the theater of Xicheng District No.1 Culture Center recently.
It's the third session of the contest. 22 amateur Peking Opera troupes from Xicheng District's communities and sub-districts take part in the event, mainly performing Peking Opera classic works and modern zhezixi (highlights of a work).
The contest is hosted by Xicheng District Bureau of Culture and Tourism, and undertaken by Xicheng District Baihua Shenchu Art Troupe. The judges are comprised of 5 experts who are national first-level performers and full-time Peking Opera professors from Chinese opera colleges, as well as 22 people recommended by the participating teams. The performance is scored mainly from five aspects: characterization, pronunciation, performance skills, performance effect, and comprehensive quality. And there are 2 gold medals, 4 silver medals, 6 bronze medals, and several outstanding awards. All participating teams can get commemorative certificates and support funds.
The year of 2020 is the 230th anniversary of the birth of Peking Opera, and the 10th anniversary of UNESCO's recognition of Peking Opera as the Intangible Cultural Heritage of Humanity. In the future, Xicheng District will continue to carry forward traditional Chinese culture, and develop it in an innovative way, so as to promote Peking Opera further.