Xicheng District Participates in 2020 CIFTIS with Outstanding Financial, Cultural and Tourism Resources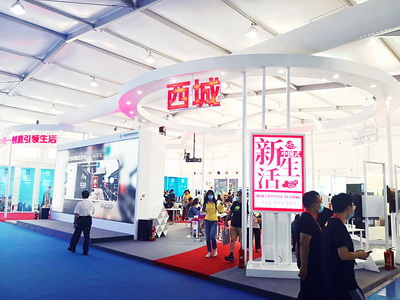 Themed with "Global Services, Shared Prosperity," the 2020 China International Fair for Trade in Services (CIFTIS) kicked off. Xicheng District of Beijing set up financial, cultural and tourism exhibition booths at the fair.
Xicheng District mainly displays high-quality resources in finance, financial technology, cultural innovation, and culture and tourism integration sectors, and promote related investment and projects. The Beijing Financial Street Services Bureau opened an exhibition booth called "Beijing Financial Street, National Financial Management Center" to comprehensively display the latest achievements and key projects of the Financial Street, as well as to showcase superior business environment and related policies, and timely and considerate services provided for various domestic and foreign financial institutions. In the Cultural Relics and Museum Related Creative Products Exhibition, Xicheng District set up its own exhibition booth themed with "Chinese-style new life: creativity leads life" to show important innovative achievements of Xicheng District through four theme exhibitions. In the International Tourism Expo, Xicheng District's four themed exhibition areas and the online platform fully showcased the integration of cultural and tourism resources in Xicheng District.
As the only industry park-themed event in the cultural services exhibition of this year's CIFTIS, the Beijing Cultural Industry Park Promotion Conference was held at the Tianning No. 1 Cultural and Technological Innovation Park in Xicheng District on September 8. With the theme of "Gathering and Upgrading New Scenarios, Cultural Creative Resources in New Space", the event attracted more than 300 people including representatives of 98 cultural industry parks in Beijing and other provinces and cities of China, as well as experts and scholars. 10 projects have gained contract results, and the total value of the contracts reached 7.01643 billion yuan.