Remote Mountain Bazaar Held in Xicheng District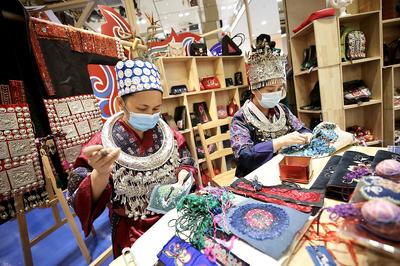 A unique event, called the Remote Mountain Bazaar, is being held at Beijing Chang'an Market, Xicheng District. Dressed in ethnic costumes, embroidery workers from China's southwest province Yunnan show their skills and tell local stories on site.
The cooperation between Chang'an Market and the Remote Mountain Bazaar combines traditional culture with modern commerce. The bazaar can help Yunnan craftsmen alleviate poverty through industry, and at the same time put cultural elements into commerce, so as to get closer to common people's life. Consumers living in city get a chance to have a closer understanding of life in remote mountains, and enjoy the beauty of traditional Chinese handicrafts.