Xicheng District Intangible Cultural Heritage DIY Summer Camp Opens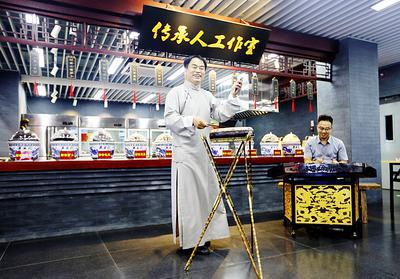 Wang Shucai, an inheritor of intangible cultural heritage, gives an impromptu performance.
Xicheng District Intangible Cultural Heritage Protection Center held the opening ceremony of 2020 Xicheng District experience journey of traditional Chinese culture cum intangible cultural heritage DIY summer camp at the museum of Liubiju on August 6.
Children and their parents visited the museum of Liubiju, a time-honored pickles and sauce brand. The staff of the museum talked about the brand culture of Liubiju, and the visitors experienced traditional skills in making Liubiju's pickles and sauce.
The DIY summer camp will last from August 1 to 30, including intangible cultural heritage culture-themed activity, intangible cultural heritage experience activity, intangible cultural heritage performance, etc. The activities will be held in seven intangible cultural heritage display venues, including Beijing Archaized Porcelain Museum, Daiyuexuan ink brush store, Sanshizhai kite shop, Beijing Qinshu intangible cultural heritage inheriting base, Huang Xiaoqun studio of colored sand painting, Rongbaozhai stationery, calligraphy and painting shop, as well as Liubiju pickles and sauce store. Children will enjoy a wonderful journey of intangible cultural heritage combining study with performance and experience activity. They can make a reservation by call or on a WeChat public account to take part in activities held in those places.
It's worth mentioning that since it's still amid the COVID-19 epidemic outbreak, each venue has been disinfected and sterilized thoroughly, in order to ensure the visitors experience intangible cultural heritage in a safe way.