Cinemas in Xicheng District Reopens in an Orderly Manner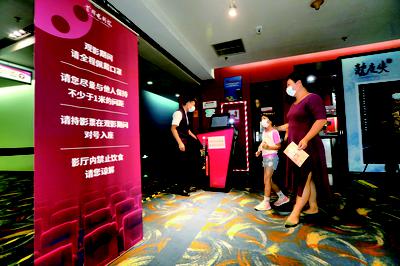 At around 15 o'clock on July 22, Xidan Branch of the Capital Cinema started to sell tickets of a new film that will be screened at 10:30 on July 24, which became the first cinema in Beijing restarting to sell tickets in advance. It sold non-adjacent tickets, and the 33 tickets were sold out instantly.
The reporter visited the Capital Cinema (Xidan Branch) on the morning of July 24. Although there was still half an hour before the film started, moviegoers had lined up in an orderly manner to scan a health QR code and take body temperatures. Those who do not know each other were asked to keep a distance of at least one meter.
All tickets are pre-purchased online via real-name reservation systems and distributed via contactless methods on-site. The cinema only sells non-adjacent tickets, and staggers the screening of films. Attendance is capped at 30 per cent of maximum capacity, so that moviegoers who do not know each other can keep a distance of at least one meter. Moviegoers are required to take their seats according to the numbers on the tickets and wear masks. Eating and drinking are not allowed during the movie.
The screening room is sterilized after each movie. Equipment such as automatic ticket pick-up machines is sterilized no less than 5 times a day, and spray disinfection is not less than twice a day in public areas of the cinema. Three mobile disinfection stations have also been set up in the cinema, providing disposable hand sanitizer to moviegoers. Toilets are equipped with several touch-free hand sanitizer dispensers, next to which posters about correct hand-washing steps are pasted. And the cleaning staff disinfects the toilets regularly. The cinema has also set up a confined space as an isolated area.
As of July 24, 7 cinemas in Xicheng District, including the Capital Cinema (Xidan Branch), Daguanlou Cinema, and Guanganmen Cinema, have resumed operations, and other 5 cinemas resumed operations on July 28.