Xicheng District Science and Technology Week: Learn about Science in Interactive Activities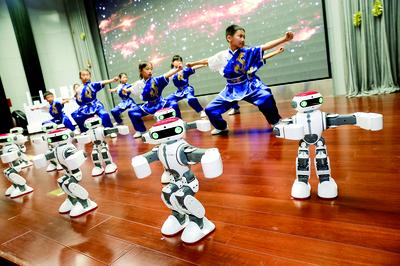 Robot, 3D printing, aerodynamic speedboat... At the launching ceremony of Xicheng District Science and Technology Week's main event cum the Guang'anmenwai Sub-district Youth Science and Technology Festival, 25 interactive experiencing programs allowed the public to learn, in an easy and enjoyable way, about intelligent voice technology, automation control technology and other high-tech achievements closely related to people's lives.
The event included 8 exhibition areas, including the Smart Life Area, the Popular Science Q&A Area, the Science and Technology Interactive Area, the Aerospace Area, the Intangible Cultural Heritage Hand-making Area, the New Energy Area and the Creative Thinking Area. A popular science drama "How Much You Know about Air", combining science with art, triggered laughter in the audience. And the event reached a climax with the dance co-performed by vibrant students and cute robots.
The highlight of this event was the interactive participation, which encouraged ordinary residents, especially young people to experience science and technology programs by themselves, and to enjoy the magic and charm of science and technology. Young people have learned and practiced engineering, technology, mathematics, and art in their lives. They have not only experienced different kinds of popular science activities and interesting science exhibits from different perspectives, but also learned the "secret" of science.