Xicheng District's Theme Flower Bed Unveiled at Beijing Horticultural Expo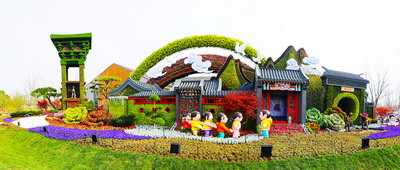 Xicheng District's three-dimensional flower bed on the theme of "Old City with Fragrant Flowers" will be unveiled at the Beijing International Horticultural Exposition 2019, the reporter recently learned from Xicheng District Bureau of Forestry and Parks.
The flower bed takes the Watchtower for Commemorating Beijing's Serving as a Capital and Xicheng District's old Siheyuans (quadrangles) as the main landscape, and shows Xicheng District's ecological garden scene. The flower bed contains 7200 pots of various flowers, 2 pine trees, 6 red maples, 1400 bamboos, 3 sets of garden sculptures, 270 small shrubs and 11000 ground-planting flowers.
According to the requirements of the Executive Committee of the Expo, all the 16 districts and counties of Beijing have built theme flower beds to showcase their construction of ecological civilization and characteristics of the horticultural industry.