Grand View Garden to Launch Cultural Activities in Qingming Festival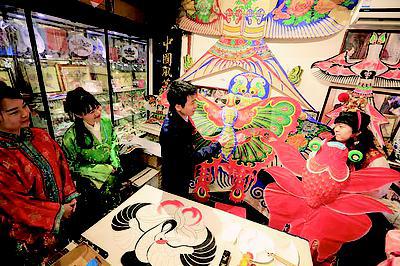 As the Qingming Festival is coming, it's the best time for spring outing in the beautiful Grand View Garden, Xicheng District, Beijing. Plum blossoms, purple magnolias and apricot blossoms in the park are blooming. And midget crab apple blossoms and peach blossoms are expected to be in full bloom in the first half of April.
The Grand View Garden will launch a series of culture experiencing activities during this year's Qingming holiday. On the morning of March 29, along with the blooming peach blossoms and melodious music, the "Lin Daiyu Burying Fallen Flower Petals" classic performance was staged, as the prelude to the Qingming Festival-themed cultural activities of the Grand View Garden.
In March, the weather gets warmer, but it is still a little cold. It's a good time for flying a kite. The ancients believed that flying kite before and after the Qingming Festival could take away evil spirits and relieve disasters. During this year's Qingming Festival, a "Kite of Cao" culture experiencing activity will be held at the Yihong Courtyard in the park. Mr. Miao Bogang, the fourth-generation inheritor of the national intangible cultural heritage "Kite of Cao", will demonstrate four skills in making the "Kite of Cao". During the Qingming holiday, visitors will be provided with 10 places every day to learn how to make the "Kite of Cao" from Mr. Miao.