Go Boating and View Blooming Flowers at Beihai Park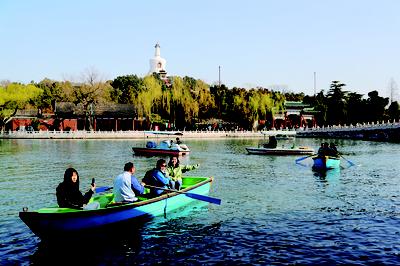 The Beihai Park's pleasure-boats passed the inspection by the maritime safety department recently and started to sail on March 16. Walking, enjoying the scenery and boating, tourists can go to the Beihai Park to find good times in memory.
In order to make sure the tourists rent boats nearby, the park opens seven piers, such as the South Shore Pier, the East Shore Pier, the West Shore Pier, the North Shore Pier and the Linguang Temple Pier. On the sparkling Taiye Pool, more than 460 boats including lotus-shaped boats, hand rowing boats, battery boats, pedal boats, yellow duck-shaped boats, and cartoon boats meet the different needs of the tourists.
Opening hours of the piers: 9:00 to 17:00 (buy tickets before 16:00). In case of moderate breeze and above, the pleasure-boats will be suspended.
In addition, the tourists can enjoy the charm of early spring at the Beihai Park now, such as green willows and blooming flowers of winter jasmine and forsythia. In the middle and late March, the Prunus davidiana blossoms will be in the full bloom period. In the late March and early April, Yulan magnolia blossoms, Armeniaca mume blossoms and flowering plum blossoms will enter the flowering stage. In the early April, various lilac flowers, midget crab apple blossoms, "Red Sentinel" blossoms and Yizhou crab apple blossoms will be in full bloom. In the middle and late April, viburnum sargentii blossoms, Chinese snowball viburnum blossoms, yellow roses and peony flowers will enter the flowering period.