"Wangjun Ji'an" Exhibition Opens in Capital Museum Displaying Shang Dynasty Civilization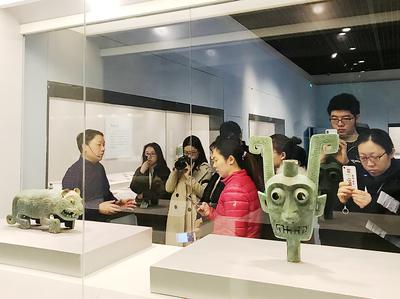 On the afternoon of March 2, the opening ceremony of the "Wangjun Ji'an (Esteemed Prefecture Ji'an)" exhibition hosted by Ji'an Municipal People's Government, Beijing Municipal Bureau of Cultural Heritage and Jiangxi Department of Culture and Tourism was held in the exhibition hall on the third floor of Beijing's Capital Museum. The exhibition displays a total of 280 pieces (sets) of cultural relics exhibits from 15 museums, more than half of which are first-class ones. The exhibition is open to the public for free and will last until June 23.
Located in the center of Jiangxi Province, Ji'an City lines both sides of the Gan River. People in ancient times lived and prospered here. The river gave birth to the city, fostered its culture, and infused its inhabitants with great mental vitality. Here, you can discover the Shang Dynasty (1600-1046 BCE) civilization of Dayangzhou, a town in Xingan County; visit the Jizhou Kiln, which has been in use for 500 hundred years; and listen to the sound of chanting of ancient books in Bailuzhou Academy. Here, the revolutionary spirit emerged in the Jinggang Mountain area and was passed down through the generations.
The name "Ji'an" means auspicious, prosperous and a life of peace, reflecting the hope of the ancestors for a good and blessed life. With a history of several thousand years, Ji'an is a shining beacon for civilization in the entire country. And the spirit engendered in the Jinggang Mountain Revolutionary Area is like a beautiful melody marking the progress of modern China.
The exhibition is divided into "The Land of Great Culture", "Connecting the South and the North", "Kiln of Thousands of Years", "Talents of Luling" and "The Cradle of Revolution" five parts. It highlights the cultural heritage of the Shang Dynasty (1600-1046 BCE) civilization of Dayangzhou, various porcelain products from the Jizhou Kiln, the Luling culture represented by the Bailuzhou Academy and the great opening point of the sinicization of Marxism - Jinggang Mountain.