Improved Environment of Shichahai Attracts More Birds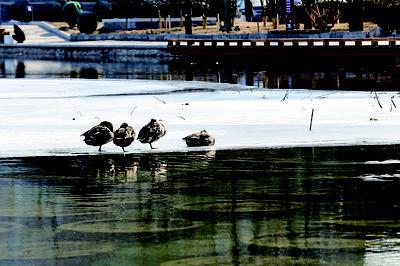 The reporter recently saw the Xihai Lake of the Shichahai Lake already ripples in the late winter. "The lake didn't freeze in the whole winter, and there are ducks swimming around," the nearby residents who often came for a walk told the reporter. According to an officer of the Shichahai Sub-district of Xicheng District, water impellers have been installed under the water of the wild duck lake in the Xihai Lake and Houhai Lake, for controlling lake water environment, winter water freeze prevention, as well as supplying oxygen to water.
In addition, there are a large number of terrestrial and aquatic plants growing in the Shichahai Lake since the Xihai Wetland Park was built last year, so the environment of the Shichahai Lake has been further improved, attracting more birds. Although spring has not yet arrived, the Shichahai Lake is full of vitality, where many citizens and tourists come to enjoy a feeling of spring.