Harmony and Good Harvest: Capital Museum Holds the Year of Pig Cultural Exhibition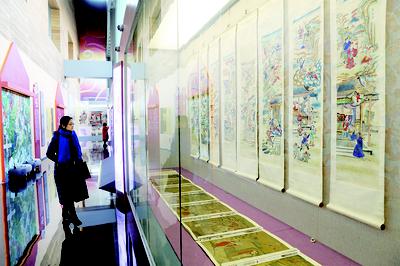 The "Harmony and Good Harvest: Celebrating the Spring Festival in the Year of Pig" exhibition is on view at the Capital Museum, Beijing now, featuring 60 groups of cultural relics on the porcine creature and the related historical stories.
A red pottery boar head appears first in the exhibition hall, which is the oldest cultural relic of the exhibition, six or seven thousand years old. According to the expert, the tusks of the pottery boar are very small, and the snout is also shortened, the same characteristics as the domestic pig's, showing that the primitive settlement agriculture and animal husbandry already existed at that time.
The exhibition includes "One Life and Growth in Nature", "Favorable Weather and Good Harvest" and "Time and Life Circle" three parts. 60 pieces or groups of collections of the Capital Museum are selected to present economic foundation, conceptual form and emotional expression in different eras. The exhibits, in the forms of cultural relics, pictures, words, interactive scenes, and multimedia, show the audience diverse pig culture in Chinese history and the simplest prospect for the new year the pig culture brings to Chinese people.
This year, there will also be three exhibitions worth a visit in the Capital Museum, including "A Prestigious County: Ji'an" exhibition, "Picturesque Mountains and Rivers: Ancient Landscape Painting Exhibition" and "Splendid China: Ancient Silk History and Culture Exhibition". Moreover, the museum will hold the "High Mountain and Long River: Xishan Mountain and Yongding River History and Culture Exhibition", the exhibition about the Central Axis of Beijing's application for world cultural heritage and the exhibition of cultural relics collected by Beijing's famous parks, telling Beijing's historical stories from different perspectives.