Xicheng District Fitness Ice and Snow Season Opens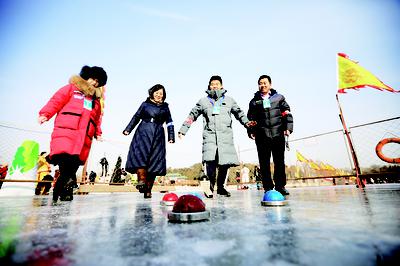 On January 18, the 2019 Xicheng District Fitness Ice and Snow Season opened in Beihai Park. At the opening ceremony, awards were presented to the winners of the Beijing-Tianjin-Hebei Ice Cuqiu Invitational and the plaque unveiling ceremony of Xicheng District Ice Cuqiu Association was held.
Based on the famous "three ice sports in Shichahai" – ice Cuqiu, ice dragon boat race and ice show, Xicheng District Bureau of Sports collects traditional folk ice and snow activities and launches ice experiencing activities. Citizens can spin top on the ice, ride ice car and participated in the tug-of-war on the ice and other games, bring back good childhood memory.
The fifth ice and snow season has already launched some sport activities from November last year and will continue until March this year. During this period, the main activities include the amateur event Ice Cuqiu (Square Venue) competition of the First Winter Games of Beijing, the 5th Beijing-Tianjin-Hebei Ice Cuqiu Invitational, the 8th Shichahai Ice Dragon Boat Race, etc., aiming to encourage citizens to do winter fitness exercise. Communities, sub-districts, government departments, institutions, enterprises and schools can take part in various competitions as groups. The number of people who take part in competitions and experiencing activities is expected to exceed 250000.