Guang'anmennei Sub-District Resident Cultural and Sports Activities Center Unveiled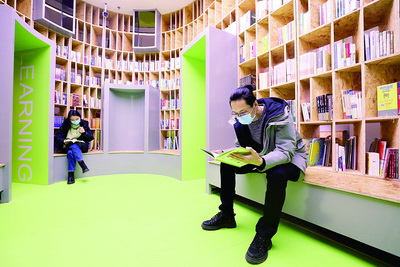 Guang'anmennei Sub-district Resident Cultural and Sports Activities Center was opened on a trial basis recently, offering cultural, sports, social, entertainment and early education services.
The center is located at No. 1, Guangyi Street, Xicheng District, covering an area of about 1800 square meters. With two floors, one on the ground and the other underground, it includes more than 10 functional areas such as a small theater, a reading area, a shared activity area, a video screening room, a coffee bar, a parent-child space, a gym, and a recording studio. They can meet various needs of residents for cultural and sports activities. For example, the public reading area has over 12000 books and 65 seats, attracting many young people to visit. It doesn't require a reservation or a library card, so residents can read books at any time during the opening hours.
The center is open from 9:30 a.m. to 9:00 p.m, where residents can read books, watch movies, and participate in cultural and sports activities for free. Moreover, it pays attention to providing public cultural services for special groups such as elderly people, children and teenagers, and the disabled persons.
Guang'anmennei Sub-district has taken two years to build this cultural and sports center. It's very thoughtful of the sub-district that they have equipped the center with barrier-free facilities in the stairwell, maternity and infant rooms in bathrooms, and eye-protection lights in the reading area.
The center is planned to be formally open before the Spring Festival in 2021. Next year, 150 public activities will be held to benefit more than 20000 people.