Kangleyuan Pocket Park Opens in Guang'anmenwai Sub-District, Xicheng District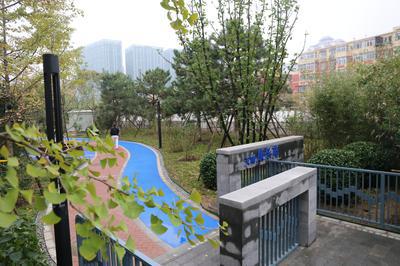 After over-one-month's construction, Kangleyuan pocket park, the third one built in Guang'anmenwai Sub-district, Xicheng District this year, is open to the public in this autumn, the most beautiful season in Beijing.
The park lies in the south of No. 24 Tianningsi Front Street, covering an area of 1569 square meters, which has added 1292 square meters to the original green space. It can cover many residential communities nearby.
It's worth mentioning that different from many other pocket parks, Kangleyuan was designed with sports and fitness elements. At the southern end of the park, two table tennis tables and a cage football field are set up, and the fitness trail and fitness field were designed with residents' participation.
Guang'anmenwai Sub-district has built several green spaces since this year, such as Lotus Fragrance Garden and Rongleyuan pocket park, and green spaces in its jurisdiction have kept increasing year by year. The sub-district plans to build pocket parks in the southeast corner of Xiaomachang, No. 23 Nanbinhe Road, No. 10 Maliandao Road, etc. by the end of this year, and will gradually improve sports venues.