Feel Cultural Charm of Ancient Capital Beijing: White Pagoda Evening Talk Held in Xicheng District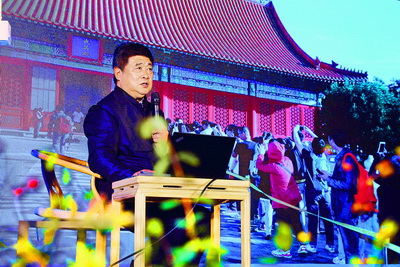 A special White Pagoda Evening Talk was held in a siheyuan (Beijing courtyard) lying in the White Pagoda Temple area, Xinjiekou Sub-district, Xicheng District on the evening of October 8. Themed with "Making Cultural Heritage Resources Alive", a speech was given by Mr. Shan Jixiang, president of the China Cultural Relics Academy and director of the Palace Museum Academy. His vivid talk allowed the audience on the site and online to deeply experience the cultural charm of Beijing, the capital city of China.
More than 80 people, including heads of four key cultural relic sites under national protection, Guangji Temple, White Pagoda Temple, Temple of Emperors of Successive Dynasties in China and Luxun Museum which are located in Xinjiekou Sub-district, experts in culture, art, architecture and city planning fields, as well as local residents living in the White Pagoda Temple area, were invited to participate in the event. In addition to the on-site guests, a total of 290000 people watched the live-streamed speech through the "Beijing Xicheng" official account on the short video social platform Kaishou and the live streaming platform of Xinhua News Agency.
Mr. Shan's speech was interesting and fascinating. He started with China's declaration of world cultural heritage, and shared his valuable experience in urban cultural construction and cultural heritage protection. Then he talked about the experience of the Palace Museum in cultural relics protection, environmental layout, supporting facilities, and the use of the internet technology for cultural promotion in recent years.
Beijing, an age-old city and the capital of China, originated from where present-day Xicheng District locates, so Xicheng District boasts abundant cultural heritage, covering the culture of the old imperial city, scholar culture, folk culture and religious culture. The White Pagoda Evening Talk will be held from time to time, inviting well-known scholars and cultural celebrities to give speeches. The event aims to promote the culture of the ancient capital and Beijing-style culture, as well as to showcase the charm of Beijing as an ancient capital city.