Chunshu Sub-District of Xicheng District Held 4th Liulichang Four Treasures of the Study Art Festival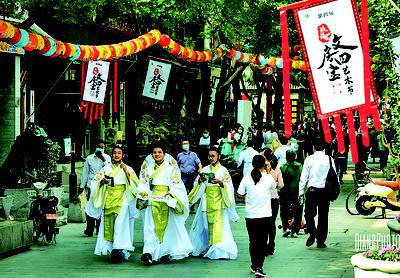 Chunshu Sub-district's 4th Liulichang Four Treasures of the Study Art Festival kicked off on September 26. Visitors experienced various traditional Chinese cultural skills in the three-day event.
At the opening ceremony, a representative from a time-honored brand of Xicheng District shared stories about the scholar culture in the Liulichang area. And Rongbaozhai Gallery, Yidege Ink Store, Daiyuexuan Ink Brush Store, Hongbaotang Painting Shop, Cathay Bookshop and the West Liulichang branch of ICBC co-founded the Liulichang Cultural Innovation Alliance. Cultural innovation products themed with the scholar culture were unveiled at the opening ceremony, such as pen, ink brush, inkstick, silk paper, and golden blessing card which wishes people have a bright future.
"The operation of nearly a hundred physical stores in Liulichang West Street was affected by the COVID-19 epidemic this year. In order to help them resume work and production, we have prepared exhibition booths for them to showcase their specialties during the festival," a relevant person in charge of Chunshu Sub-district said.
As one of Beijing's most famous cultural streets, the Liulichang West Street originated in the Qing Dynasty. At that time, most of the people who came to Beijing to take the imperial examinations lived in this area. Therefore, there used to be many stores selling ink brush, inkstick, paper and inkstone, namely the Four Treasures of the Study, in this street. Liulichang had gradually developed into the largest book market in Beijing, as well as a famous cultural market.