Xicheng District Launches Online Sports Carnival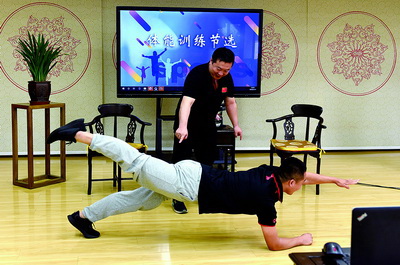 Online summer camp cum online sports carnival opened recently, hosted by Xicheng District Commission of Education and undertaken by Xicheng District Children's Palace. At the launching ceremony, Wu Dong, a professor from Beijing Sport University, and He Xue, a sports instructor from Xicheng District Education and Research Institute, were invited to conduct a live stream about home-based physical exercise for students. On that day, 168 students displayed videos about their at-home exercise online, and 2127 people watched the live-stream.
In the "traditional sports and physical training" part, Wu Dong encouraged students to do strength, speed, and stamina training, and emphasized the importance of physical training. And then, Wu Dong, along with Liu Guanglei from Xicheng District Children's Palace, demonstrated some difficult movements on site.
In the "sports game and parent-child game" part, He Xue recommended some home-based sports fit for the youth. She hoped that students would attach importance to scientific methods of exercise, combine skills and education with fun and entertainment, cultivate interest in exercise, and form a good habit of lifelong exercise.
This event is Xicheng District's first large-scale online sports event in the out-of-school education field. It aims to implement national youth sports activity promotion plan in an innovative way, which asks students to exercise for one hour a day, and to encourage young people to make better use of the summer vacation to take exercise.