Department Store Sorts Different Kinds of Waste in Different Ways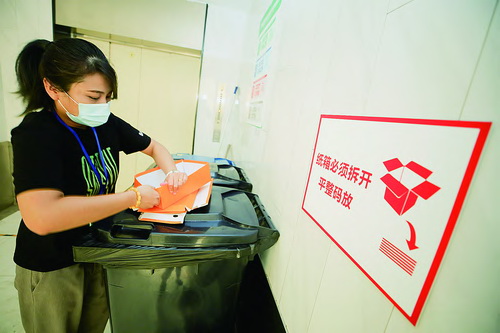 Hanguang Department Store, located in Xidan, Xicheng District, has placed different garbage sorting bins and set up different sorting rules for different types of garbage produced on different floors.
On retail floors, Hanguang has placed recyclable waste bins and other waste bins near escalators and lifts, and asked cleaners to collect, clear and transport away waste according to classified sorting rules. It has pasted "Beijing's Guidelines for Classification of Domestic Waste" promotion posters in cargo lifts and passenger lifts, in order to raise its staff and customers' awareness of waste classification. Moreover, the shop has also placed recyclable waste bins and other waste bins in the cargo lift area, and asked shopping guides of brands in the shop to disassemble the cartons, make them flat and separate them from other garbage.
Waste produced on dining floors mainly contains kitchen waste and domestic waste. Like retail floors, recyclable waste bins and other waste bins are placed for domestic waste. Staff of restaurants in the shop is required to select kitchen waste out of other kinds of waste, filter water, cooking oil and grease out, and then put the kitchen waste into the kitchen waste bins. The waste cooking oil and grease are required to be cleared, collected and put into bins by special staff.
It's worth mentioning that in addition to sorting and recycling, Hanguang Department Store upgraded its garbage room on the dining floor in 2019 to reduce kitchen waste from the source. Oil and water filtration equipment is installed in the garbage room. After filtration, the staff will dispose of the waste. The sewage enters the grease separation tank, the waste oil is collected and barreled, and the dry kitchen waste left is barreled separately, and then cleared and transported away.
Recyclable waste and other waste produced in the department store every day are sent to the garbage room near its east gate by the cleaning staff of the shop and the staff of the restaurants. The staff of the garbage room sorts the garbage again. The recyclable waste is cleared and transported away by a renewable resource recycling company, while other waste is sent to a garbage disposal station in Xicheng District.