Guang'anmenwai Sub-District Takes Measures to Ensure Living Supply in Closed-off Residential Communities Due to Reappearance of COVID-19 Cases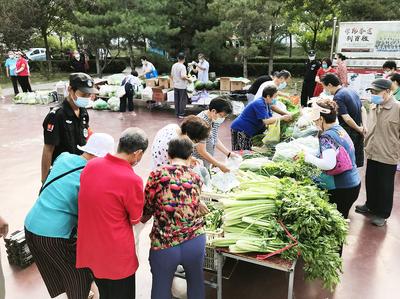 Since closed-off management started to be implemented in 7 residential communities around the Tiantao Honglian market on June 16 due to the resurgence of domestically transmitted COVID-19 cases, Guang'anmenwai Sub-district has contacted with local shops, supermarkets, resident's living service centers, and greengrocer's to ensure the market supply. The sub-district promotes some apps which can deliver vegetables in a non-contact way, and also arranges special vans for selling vegetables, for the convenience of residents at all ages.
After knowing that some residential communities in Guang'anmenwai Sub-district were closed off, many vegetable delivery businesses such as Guang'anmenwai Resident's Living Service Center and Shuntianfu supermarket called the sub-district to say that they can supply living materials with reliable source, good quality and low price. The sub-district has publicized information of apps which can deliver vegetables on a community app and in the corridors of resident buildings, and coordinated enterprises such as 7FRESH, Hema Fresh and Carrefour to offer contactless delivery service to residents living in the 7 closed-off communities.
Other resident's living service centers and greengrocer's in the sub-district can ensure the market supply as well. They are sanitized and sterilized, and all the staff has received nucleic-acid tests.
Guang'anmenwai Sub-district has requisitioned a storehouse with a 1500-square-meter area from a local enterprise as Xicheng District's emergency vegetable storage, which stores 60 tons of vegetables now. And the storage is equipped with disinfectants and garbage bins.
In addition, some staff members of the communities are arranged to serve people under quarantine or with physical limitations, such as helping them shop, pay for the electricity and water, and get the medicine according to doctor's prescription. The communities also arrange special cars to send residents under quarantine who suffer sudden severe disease or have to receive renal dialysis regularly to hospital, in order to eliminate residents' worries.