Xicheng District Held World Family Doctor Day Themed Activity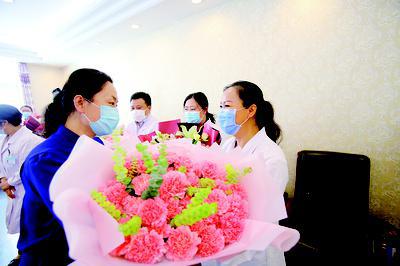 May 19th, 2020 is the 10th World Family Doctor Day. Xicheng District Health Commission held a themed activity via live video at the Desheng Community Health Service Center. Outstanding general practitioners from Xicheng District's 15 community health service centers attended the activity, and the 15 centers set up branch venues. The doctors shared their moving stories in the fight against the novel coronavirus epidemic, and their experience on the epidemic prevention and control as well as the community health services.
As the "gatekeeper" for residents' health, the community health service has fully played its role as the "outpost" and the grassroots, and laid a solid foundation for the epidemic prevention and control. Since the epidemic outbreak, 271 family doctor teams of Xicheng District have closely cooperated with communities of Xicheng District's 15 sub-districts, and conducted medical observation of persons under home-based quarantine. They also assist in the resumption of work and production, and help buildings, shopping malls, construction sites and clinics prevent and control the novel coronavirus pneumonia. Moreover, the family doctor teams have publicized their 24-hour service phone numbers, and conducted health promotion and offered health counseling service via WeChat, intelligent outbound call, and the "Xicheng Home" app. They have given contracted chronic patients three-month-long prescriptions, and provided medicine delivery services for seniors with limited mobility and who have lost the ability to live on their own if they are definitely diagnosed and in stable medical conditions.
After the activity, the doctors visited the Desheng Community Health Service Center to learn about and exchange the prevention and control measures and innovative models of medical treatment during the epidemic outbreak.