3 More Hutongs in Shichahai Sub-District Implement Parking Self-Management System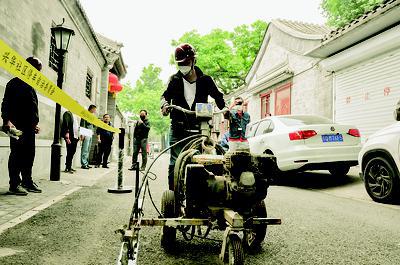 Xinghua Community started to implement the parking self-management system in Xinghua Hutong, East Fushouli Hutong, and West Fushouli Hutong, the reporter recently learned from Shichahai Sub-district of Xicheng District. The difficulty of finding a parking lot is a big problem for residents in the Shichahai area. The sub-district allows local residents to self-manage parking lots in the alleys and hutongs of Qiantie Community, Xinghua Community, Liuyinjie Community and Aiminjie Community, in order to solve the problem.
With the help of Shichahai Sub-district's Urban Administration Office, Community Development Office and Security Development Office, as well as the Shichahai Housing Management Office, Xinghua Community has learned relevant experience from the Dingfu Street, established a commission of parking self-management, conducted household survey, and made a plan. Finally, 90 parking lots in three hutongs have been marked. In addition to parking lots for motor vehicle, Xinghua Community has also marked parking lots for bicycle and for persons with disabilities. And the next step is to install charging piles.
Shichahai Sub-district will continue to explore new models of parking self-management, deepen reform of parking, and do the best to provide residents with convenience according to regional characteristics, the person in charge of the sub-district said.