Xidan Galeries Lafayette Branch of Zhongshuge Bookstore Starts Trial Operation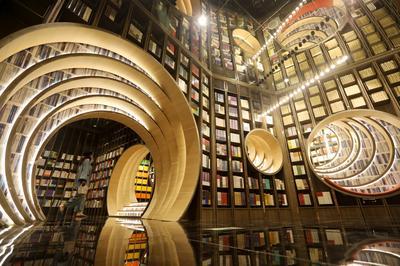 Recently, Zhongshuge Bookstore opened a new branch in Beijing, namely the Xidan Galeries Lafayette branch store. Starting trial operation for less than a month, the bookstore has become a hot site online.
The bookstore covers an area of 1100 square meters and has more than 50000 books. It is divided into 5 areas: the concept area, the cultural innovation activity area, the reading area, the coffee area, and the children's book area.
The exterior of the bookstore adopts a Chinese-style design. Actually, the design of Zhongshuge Bookstore's each branch varies according to the style of the city where it is located. The Xidan branch is designed according to the characteristics of traditional Beijing architecture. For example, the design of the round arch of the bookstore is inspired by the design of the moon gate of Beijing's siheyuan.
Zhongshuge's Xidan Galeries Lafayette branch store was originally scheduled to open in this January. Due to the novel coronavirus epidemic, the bookstore has to open recently. Its sales during the May Day holiday were 4 to 5 times that of the weekdays since its opening. The visitor flow peaks every afternoon, so the flow control is usually implemented from 2:00 to 5:00 pm, and the number of people entering the bookstore is controlled at about 150, in order to keep visitors safe amid epidemic outbreak.
At present, the bookstore is still on trial, and the book classification is gradually being improved.