Make Restaurant Reservations and Book Park Tickets Online:Have a Happy but Different May Day Holiday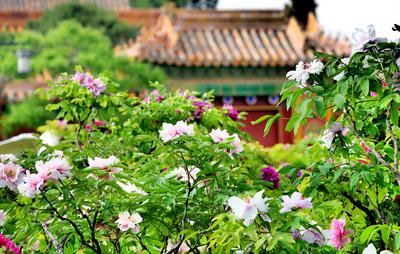 Peonies are in full bloom in Jingshan Park.
As the May Day holiday is approaching, Xicheng District's related industries have taken strict epidemic prevention measures and made good preparations to receive tourists and consumers.
There is expected to be a consumption peak in the catering industry during the five-day holiday. Time honored restaurants under Beijing Huatian Catering Group actively promote reservation service. Some restaurants resume private room booking service, while some give a discount for reservation. Meanwhile, all restaurants are required to implement epidemic prevention measures, such as consumer's queuing up with one-meter distance between each other, placing dining tables with a safe distance between each other, etc.
Beihai Park, Jingshan Park and Taoranting Park, all of which are located in Xicheng District, have launched online ticket booking service, instead of selling tickets on the site. Visitors must book tickets through the only WeChat account(ID:gh_0b7ca87ab7a3) with their real names at least one day before their visit. Beijing Zoo only opens outdoor fields now. Visitors must book tickets in advance through its own WeChat account(ID:beijingzoo-ticket) with their real names.
For Beihai Park, foreign tourists need to call to make an appointment more than one day in advance. Tickets can be reserved within 7 days. When making an appointment, you must register your real name, nationality, and the number of your passport or other ID card. After the reservation is made, you can go to the service center at the south gate of the park on the day of visit and buy the ticket with the original passport or other ID card.
It is worth mentioning that the boat rental services of Beihai Park and Taoranting Park have resumed, including gaily-painted pleasure-boat, rowing boat, paddle boat and motor boat. Before boarding, tourists must show the "health code" to the staff to prove they are healthy. Healthy people can buy tickets, and must wear masks throughout the whole journey. In addition, there are strict restrictions on the number of boat passengers.
In Xicheng District, there are also Yuetan Park, in which the Yuetan Altar, one of the five famous altars and eight temples in Beijing, is located, Xuanwu Park, in which the Shanguo Temple, one of the eight famous Buddhist temples in Beijing, used to lie, and Jinzhongdu Park, located on part of the ruins of the Jinzhongdu City which was built more than 800 years ago. Visiting the three parks doesn't require an online ticket booking with real names.
As the temperature gradually rises, various spring flowers bloom in parks. Beijing Municipal Bureau of Forestry and Parks reminds citizens and tourists to wear masks and keep social distance when visiting the parks, and not to stay in gate areas, public toilets and other public areas too long.