Xicheng District's Volunteer Families Take Part in Patriotic Sanitation Campaign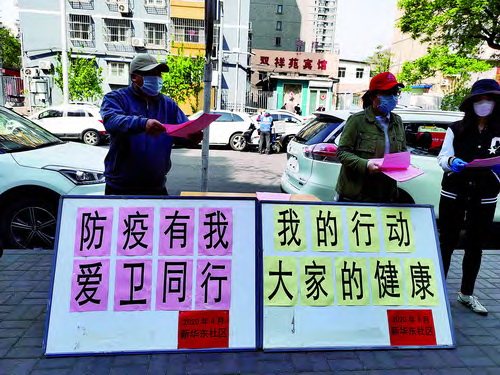 This April is the 32nd National Patriotic Sanitation Month. Over the past few days, Beijing Xicheng District Committee of the Communist Youth League of China (CYLC) and Xicheng District Volunteer Service Federation called on Xicheng District's volunteers and volunteer families to participate in sanitation activities in communities.
A large number of elementary and middle school students, together with their parents and grandparents, carried out environmental sanitation activities around their own communities. Those volunteer families cleaned the ground, cleared away disused things piled in the corridors of residential buildings, cleaned lawns in communities, cleaned publicity boards, and cleared other neglected areas filled with garbage and dust. In addition, they actively promoted healthy behaviors, distributed leaflets on garbage classification to residents, and reminded residents to develop healthy living habits such as frequent hand washing, frequent ventilation, and using public chopsticks and spoons.
"This year's National Patriotic Sanitation Month is different from the ones in previous years. Cleaning our communities can not only protect our health, but also make a contribution to the epidemic prevention and control," said a young volunteer.
By now, nearly 10000 volunteer families have participated in the patriotic sanitation campaign in communities of 15 sub-districts of Xicheng District. Next, Xicheng District Committee of the CYLC and Xicheng District Volunteer Service Federation will create a persistent-effective mechanism, and further promote the campaign by encouraging volunteer families to participate in.