32 Xicheng District-Level Parks Take Anti-Epidemic Measures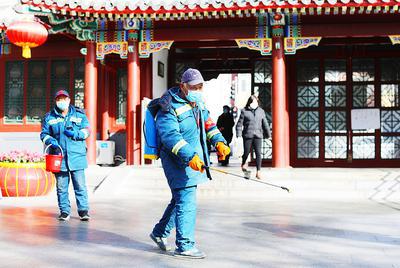 As the temperature gradually rises in March, there are more people visiting parks. In order to provide citizens with a safer environment, Xicheng District's parks and city administration departments take anti-coronavirus measures in 32 district-level parks and request citizens to visit parks in a healthy and safe way.
The reporter sees in Xuanwu Park that there are shoe disinfection blankets and "one-meter markers" at the entrance of the park, and signs and display boards for epidemic prevention all over the park. Tips for epidemic prevention are played on electronic screens and broadcast in speakers. Visitors are required to wear masks and take temperatures. The park also conducts real-time monitoring of the number of visitors in the park and uses electronic screens to display the number. Once the number is more than 30 percent of that with the same period from the previous year, the park will immediately conduct a flow control to avoid high population density in the park.
At present, parks in Xicheng District spray disinfectant on roads, squares, sports fields, gate areas, toilets and other public places three times a day, and wipe and disinfect public facilities such as fitness equipment, seats and tables, sculptures and waste bins once an hour. They also arrange staff members to conduct inspection around parks to request visitors to wear masks in a correct way and not to gather.
There are 32 district-level parks in Xicheng District, including 18 under fully-closed management and 14 under partially-closed management. All of them have made plans for emergency. In order to deal with emergencies and avoid mass gatherings, Xicheng District's parks and city administration departments have set up 11 emergency rescue teams to ensure that tourists can visit parks, participate in leisure activities and take exercise in a safe environment.