Dashilan Sub-District Offers Online Food Booking and Non-Contact Delivery Services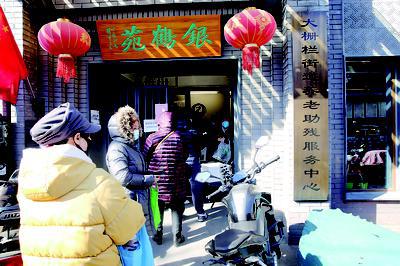 Residential communities in Xicheng District's Dashilan Sub-district implemented closed management from February 14. Out of consideration for the inconvenience of elderly people to go out to buy daily necessities, Dashilan Sub-district Service Center for the Elderly and the Disabled established an anti-epidemic love and care service station. The station cooperates with a technology company and a catering management company to provide online food booking and off-line take-away and delivery services.
Thursday and Friday are the online-booking days for residents. More than 60 kinds of products, including nearly 20 kinds of cooked foods such as sausage, garlic sausage and beef, nearly 30 kinds of vegetables such as tomato, potato and cucumber, fruits such as banana and apple, as well as staple food such as cut noodles and flour, are provided for residents.
Residents can pick up already-packed shopping bags, with a "safety card", on Saturday. Name, body temperature and mask wearing information of the staff members who are responsible for product distribution and packaging are recorded on the card, so residents can feel at ease to buy products. Moreover, the station provides non-contact door-to-door delivery service for the elderly people who are not able to go to the station to pick up.
The love and care service station has provided two times of such service since the start of online booking on February 13, according to the relevant person in charge of Dashilan Sub-district. Such considerate service is very popular with residents. In addition, staff members of the station will call residents who are under quarantine or at advanced age every day and help them buy food and daily necessities, and then deliver them to the door. Next, the station will also adjust the types of goods in time according to the residents' needs, such as offering more staple food products and daily necessities, to meet the needs of residents to a greater extent.