Xicheng District's Health Sector in Vanguard of Novel Coronavirus Epidemic Prevention and Control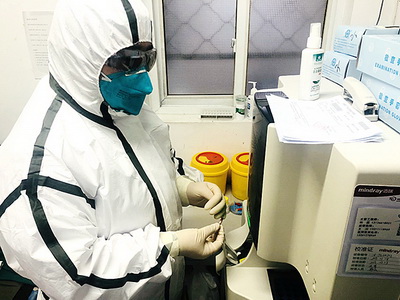 To deal with the sudden outbreak of the novel coronavirus-infected pneumonia, Xicheng District Health Commission quickly launched a joint prevention and control mechanism for public health emergencies. Staff members of Xicheng District's health sector stick to their posts and fulfil their responsibilities with real actions, in order to safeguard people's health.
At present, 11 fever clinics opens in Xicheng District, and other 9 district-level hospitals and all community health service centers have started 24-hour fever screening. Medical workers both at the emergency department and the outpatient department put themselves forward in the battle against the epidemic. Special personnel has been arranged to pre-check patients, and suspected patients will be transferred to the fever clinic for further check and treatment.
Health care workers carry out health monitoring, disinfection, and medical observation of patients every day at the centralized quarantine sites for medical observation. There are personnel on duty 24 hours a day.
Workers of Xicheng District Center for Disease Control and Prevention wear airtight protective suits in specific laboratory to face the novel coronavirus every day. They assume the task of detecting the virus.
Staff members of the Health Supervision Institution of Xicheng District Health Commission focus on supervision and inspection on public places where people gather, enterprises and units using air-conditioners, and medical institutions at all levels.
Xicheng District gives full play to the important role of family doctor teams in the community's epidemic prevention and control. 264 family doctor teams cooperate with 259 communities of Xicheng District's 15 sub-districts. The community health service centers have established a coordination mechanism with Xicheng District Center for Disease Control and Prevention and "120" Emergency Hotline to connect community organizations, family doctor teams with residents. Based on the principles of early detection, early reporting, early isolation and early treatment of cases, they have done a good job in screening, controlling, guaranteeing, guiding, transferring and treating.