Property Management Enterprises of Office Buildings in Financial Street Take Strict Measures to Prevent Coronvirus Epidemic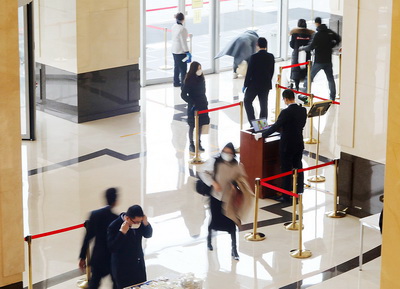 At the Winland International Finance Center, people must check the body temperature at the entrance and then receive a pass to enter the building.
Beijing Financial Street is the national financial management center. There are nearly 50 buildings of various types, more than 1800 financial institutions of various types, and about 230000 financial employees in this area. Since the outbreak of the novel coronavirus epidemic, property management enterprises of office buildings have drafted and implemented various epidemic prevention and control plans in order that enterprises in the Financial Street can run as smoothly as usual.
Financial Street Property has undertaken the property management of more than ten office buildings, which is the main force for the epidemic prevention and control in the Financial Street. The company has closed some entrances of the buildings and opened some 24 hours a day. It strictly controls the people and vehicles entering and leaving the buildings, strictly implements the visit registration system, and strictly takes every person's body temperature. The company also disinfects public areas of each building no less than three times a day, and sprays disinfectant on the fresh air filters of each building's air-conditioners every day. As the number of people returning to work is going to reach a peak, Financial Street Property steps up the publicity of anti-epidemic knowledge, in order to enhance sense of self-protection among employees working in the office buildings.