Xicheng District's Supermarkets: Adequate Supplies, Stable Prices, Strict Epidemic Prevention Measures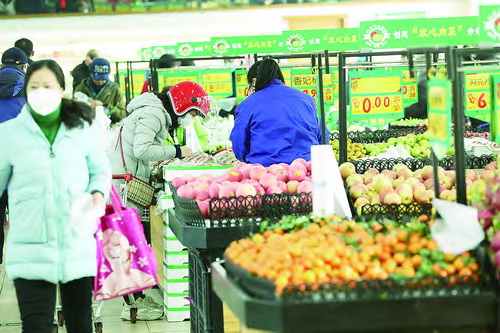 The reporter visited the supermarkets in Xicheng District recently to know the supply of goods and preventive anti-epidemic measures. Large supermarket chains can ensure adequate supply and stable prices, and have done a good job in epidemic prevention. Citizens can go shopping safely if they are careful about personal hygiene.
"Our employees must take their body temperatures 3 times a day. The whole supermarket is disinfected every 4 hours, including shelves, shopping carts, and toilets," said a person in charge of a chain supermarket in Xicheng District. As one of the first batch of Xicheng District's "safe meat and vegetables demonstration supermarkets", this store has taken active actions to purchase goods, ensuring sufficient supplies of various daily necessities. And they also ensure stable prices, as one of their key tasks. The prices of vegetables and fruits are basically the same as in previous years, without big price fluctuation.
Another chain supermarket the reporter visited also has adequate supplies of vegetables, fruits, rice, flour and cooking oil. The headquarters can guarantee the distribution of various goods every day. Customers can rest assured that there will be adequate daily necessities in the supermarket, a person in charge of the store told the reporter. They also ensure that epidemic prevention measures are in place. Before the start of the business every day, the store will check the body temperatures of all employees and hand out masks to them. The whole supermarket will be disinfected every day before the door opens, during the business hours, and after the business is closed. The shopping carts will be cleaned and disinfected at noon every day