Xicheng District Take Actions to Combat Coronavirus
It's an order for us to curb the coronavirus outbreak. Relevant government departments of Xicheng District stick to their post and fulfill their duty to protect people's health with practical actions.
At present, 11 fever clinics opens in Xicheng District, and other 9 district-level hospitals and all community health service centers have started 24-hour fever screening. Xicheng District's 264 family doctor teams cooperate with 259 communities of Xicheng District's 15 sub-districts. The community health service centers have established a coordination mechanism with Xicheng District Center for Disease Control and Prevention and "120" Emergency Hotline to share information and jointly prevent and control the epidemic.
Staff members of 259 communities in Xicheng District quickly take actions. They carried out rigorous inspection from door to door, to ensure that they can contact with, meet and check the body temperature of all people living or working in Xicheng District.
Xicheng District's supermarkets and catering companies can provide life necessities for citizens. They also do a good job in disinfection and epidemic prevention to ensure the health and safety of consumers. Xicheng District Administration for Market Regulation has stepped up its supervision and inspection of pharmaceutical companies and civilian supplies markets, and they focus on cracking down illegal acts such as manufacturing and selling counterfeit or substandard goods, hoarding and profiteering, price jacking, and price fraud. Meanwhile, they have strengthened the inspection of live poultry markets, and no live poultry and wild animal sales have been found in Xicheng District.
Xicheng District's sanitation workers have increased the frequency of road cleaning and garbage bin cleaning. They disinfect the garbage bins in densely populated areas 4 times a day, and the ones around hospitals 6 times a day. In addition, they spray disinfectant on public facilities that are frequently used in communities and easily contaminated, such as fitness equipment, stone stools for rest, and door handles. In the afternoon when the temperature is high, more cleaning vehicles will be dispatched to clean land on key streets. In order to prevent secondary pollution, all sub-districts have placed waste mask collection bins, and arrange special personnel and special vehicles to collect them and to disinfect the bins and surrounding areas.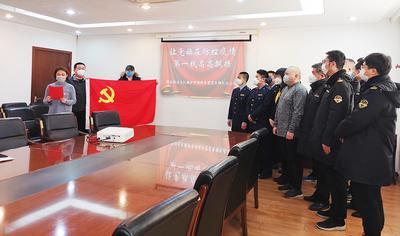 Xicheng District Administration for Market Regulation sets up a vanguard of the CPC members for maintaining market order.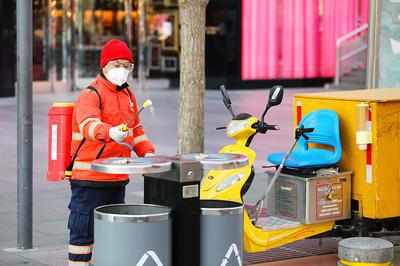 A sanitation worker is disinfecting a garbage bin.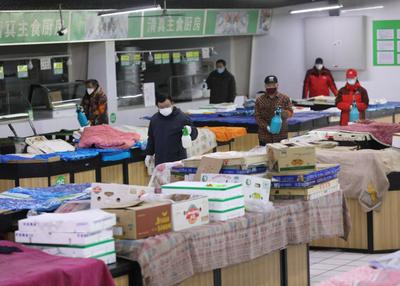 Community staff members disinfect a market.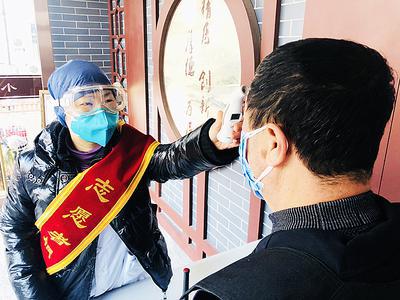 A community volunteer checks a resident's body temperature.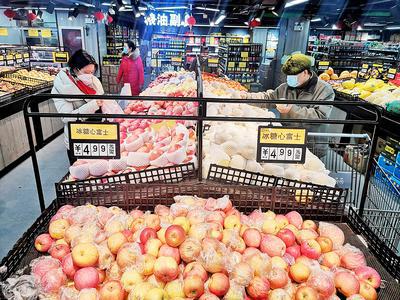 The supermarket provides adequate fruit and vegetables with stable price.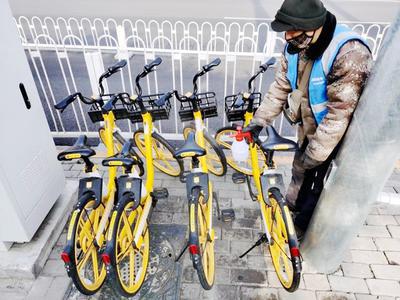 Shared bikes get disinfected regularly.